Rev. Father Graham trashes Avilebo basic, others to win Nsein Kundum quiz competition
Rev. Father Graham: As part of nsein kundum festivity, authorities organized Quiz competition for some selected schools in the area. Total four schools participated with great enthusiasm and skilfully answer questions asked. Though some of the questions were tricky, they tried to answer them with confidence. The audience also got a chance to participate everytime, participants answer the questions wrongly.
The competing schools were Reverend father Graham preparatory school, Awulae Agyevi Kwame JHS, Avilebo basic school and Adelekezo basic school.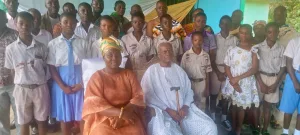 Others also read: Patrick Assuah, aspiring assembly member, donates chop boxes to all JHS graduates in his electoral area
Others also read: Nzema FM Presenter, Patrick Assuah, Survived in Ghastly Accident at Nsein
See what others also read: 87 graduate from ADAMUS mining women empowerment skill training
Others also read: Hon. Catherine Afeku Donates Relief Items To Flood Victims in Evalue Ajomoro Gwira Constituency. 
Others also read: All Ellembelle Retiree Teachers Honored | Cash and more
At the end of the contest, Reverend father Graham was crowned the winner with 32 points, Avilebo basic school came second with 24 points, Awulae Agyevi Kwame JHS had 17 points to place third and Adelekezo basic adjudged fourth place of the competitions.
The maiden edition of the contest was funded by Oheneba Tom, the son of Awulae Agyevi Kwame, paramount chief of the area.
Speaking at the gathering held at nsein in the Nzema East municipality on Wednesday 20th September 2023, Awulae Agyevi Kwame who chaired the occasion expressed his profound gratitude to the organizers for the initiative
He appealed to well-to-do citizens of the community to come to their aid.
Others also read: G.E.S Caught 29 SHSs In 8 Regions With Intention To Cheat In WASSCE 2022. Exam papers of the affected schools to be scrutinized. [Find the list of schools here]
Others also read: Mr. Seth Boateng is new GES Western North regional director
See what others also read: Banks now demand clearance letters from quick loan before granting loans
Others also read: Teachers Fund Exhausted Their Loan Budget For 2023
Others also read: Fijai SHS Headmaster Interdicted | Other Heads Shaking
According to him, winners would received their presents on Saturday during grand durbar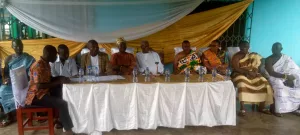 In attendance were: hon Appiah Kwame, assembly member of the area, chiefs, parents and students
STORY BY PATRICK ASSUAH OF NZEMA FM
About Author