5 Major Reasons Labour Unions Want Minimum 60% Salary Increase, According To TUC, That Needs Members Support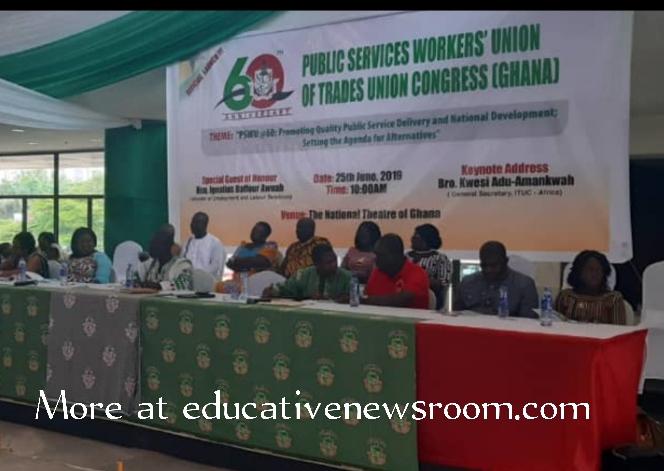 5 Major Reasons Labour Unions Want Minimum 60% Salary Increase, According To TUC, That Needs Members Support
Highlights
1. It is now a known fact that the government wanted to use only one week before the presentation of the 2023 annual budget to negotiate the base pay increase for public sector workers.
2. Obviously, that attempt failed to conclude on any percentage increase.
See also,: 11 Major Highlights From 2023 Budget That Summarizes The Document Presented To Parliament Today 24th November 2022
3. Interestingly, labour unions have shifted their position of a minimum 60% salary increase to 65% based on these five (5) major reasons.
a. First and foremost, the budget statement hinted at a change (mostly an increase) in the tax brackets for income earners that will mostly affect formal sector workers.
See also: Percentage Salary Increase Used To Prepare 2023 Budget By The Government And IMF
b. The budget also increased by 2.5% the Value Added Tax (VAT) the value of Tax, which will further squeeze a little more from the pockets of Ghanaians.
c. Also, the Single Spine Salary Structure (SSSS) has been reduced in value, nearing the levels before the introduction of SSSS due to the fact that salaries have been increased mostly below inflation rates over the years.
See also: No Salary Increase By January 2023 For Public Sector Workers [The secret is out]
d. Worth noting is the fact that article 71 holders in the country have the luxury of increasing their own salaries beyond 60%, creating second-class citizens in the country.
Advert: Click here to join ALL GNAT MEMBERS on One Telegram Platform
e. Moreover, institutions in the country responsible for collecting revenues are rewarded further for beating their annual targets, which reveal the fact that the state of the economy is not much of inability to collect revenue.
For information that you will not get on TV or radio:
Click here to join EDUCATIVE NEWS ROOM on WhatsApp
Click here to join EDUCATIVE NEWS ROOM on Telegram
Click here to join EDUCATIVE NEWS ROOM on Facebook
Join us on Social Media | Post Disclaimer
The information contained in this post is for general information purposes only. The information is provided by 5 Major Reasons Labour Unions Want Minimum 60% Salary Increase, According To TUC, That Needs Members Support and while we endeavour to keep the information up to date and correct, we make no representations or warranties of any kind, express or implied, about the completeness, accuracy, reliability, suitability or availability with respect to the website or the information, products, services, or related graphics contained on the post for any purpose.
---
SEND A STORY: Do you have a story for us or need a promotion/advertisement? Submit them via our email admin@educativenewsroom.com
Facebook  Group> [JOIN Facebook]
JOIN OUR EDUCATION NEWS-GROUP (WHATSAPP)
Join just one of our Whatsapp/Telegram Groups for current Educative News Service Updates:
JOIN ONLY ONE... THANKS
TELEGRAM PAGE >>> [JOIN]
WHATSAPP  [JOIN]
TWITER [JOIN]
---